Equine Assisted Wellness Programs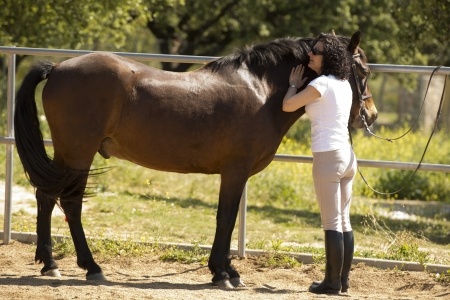 Equine Assisted Corrective Response (EACR)-
Did you know that Horses are extremely reflective of a rider's slightest emotion? If a rider is scared or angry, the horse in turn mirrors those emotions. This is the natural response of a 'herd' animal (an animal that lives with other animals, like humans). They do this in order to stay safe and understand their position within the herd; similar to the way humans are effected by each other's emotions and reactions. Through Core identity's Equine Assisted Corrective Response Program, our talented team of horses are used to teach how our emotions and reactions effect those around us. Learning how to control our emotions fosters better relationship between others. As our clients gain control of emotions, such as fear, and overcome their doubts our CID specialized trainers teach them how to apply these skills to their daily life. Core Identity and our spectacular horses are changing the lives of individuals all over the Treasure Valley.
Equine Assisted Physical Therapy (EAPT)-
In Core Identity's Equine Assisted Physical Therapy Program we use our horses as a multi-faceted therapeutic tool, for people with disabilities, injuries, or any other imbalances that can be addressed though the use of our horses. Equine movement provides multi-dimensional movement, which is variable, rhythmic and repetitive which makes it an incredible tool for increasing core strength, building overall postural strength, balance, control, and endurance. As a horse walks it moves in six general directions: left to right, forward and back, and up and down each time that the horse moves it helps the rider build new neuro- muscular responses, strengthens weakened muscles and stretching overactive or tight muscles. As the rider performs subtle adjustments to maintain a stable position their entire core (back, abs, and pelvic floor) are strengthened.
Talk to a CID equine specialist today about starting one of our highly beneficial equine assisted therapy programs.